Welcome to the Bear Paws Giveaway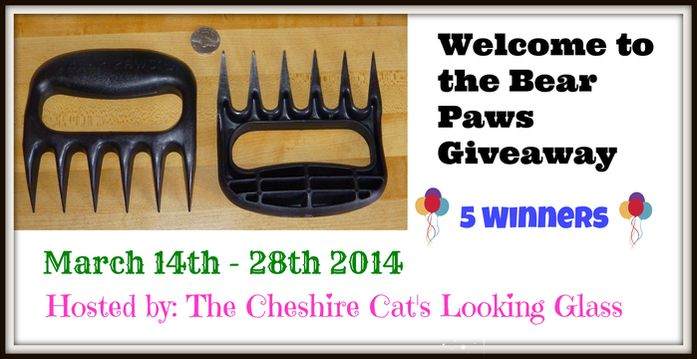 Giveaway Details
There will be 5 lucky winners of Bear paws (each winner can choose between black, pink and white Bear Paws). This giveaway will end on March 28, 2014 and is open worldwide. The winner will have 24 hours to respond to e-mail sent notifying them of winning or another winner will be chosen. Please read the full terms and conditions on the Giveaway Tools widget below:
More Information on the Giveaway Prize
Bear Paws was reviewed by "The Cheshire Cat" where she claimed that its a great tool to shred meat, leafy greens, look cool, toss a salad, transfer a roast and more. You can read more about the review here: The Cheshire Cat's Looking Glass's Review.
Bear Paws are available on Amazon.
Disclaimer
Geshery Online is not responsible for prize fulfillment, nor was any monetary compensation was received for the publication of this post. If you have questions about this giveaway, please contact the host at the "The Cheshire Cat's Looking Glass" blog through the link above.