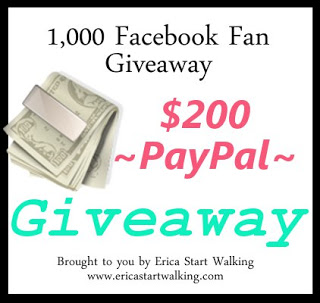 Erica Start Walking will be celebrating her 1,000 fans on Facebook with a giveaway. If you're a blogger who wishes to participate, you can sign-up here –> The 1,000 Facebook Fan Giveaway Blogger Op Sign-up Form
Important Details on Blogger Opportunity
The event is FREE to join with an announcement post! You can find the sample announcement post here: The 1,000 Facebook Fan Giveaway Blogger Op Announcement Post.
Giveaway will be Facebook compliant, your Facebook page will not get punished for joining this event.
You can just pay $5.00 (non-post fee) if you do not wish to post the announcement on your blog.
Participants will receive one free link (you can choose from Facebook, Twitter, or Pinterest).
You can buy additional links for only $3 each.
Co-Host spots are available for $15. Co-Host will receive 4 links in the Rafflecopter, one link in the giveaway post and one enter/comment on Rafflecopter.
Page Host spots are available for $$10. This brings traffic to you page.
You can send payment for additional links, co-host spots and page host fees via PayPal as a gift to ericabodker@ericastartwalking.com.
The blogger with the most referrals will receive a free Co-Host Spot.
Dates to Remember
May 1 – end of sign-up period
May 3 – start of giveaway
June 3 – end of giveaway
Giveaway Prize & Details
One lucky winner will receive $200 via PAYPAL CASH. This will be worldwide.
Please don't forget to mention that
GESHERY ONLINE

referred you! Thanks!