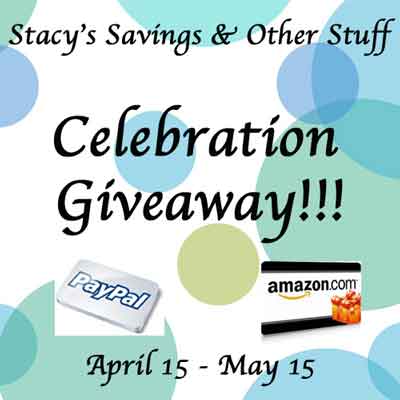 Stacy's Savings & Other Stuff is celebrating significant milestones in her blogging career with a giveaway! She's currently looking at 1 $50 prize via either PayPal or Amazon Gift Code but the amount could increase based on the response of bloggers/sponsors.
Perks and Freebies for Bloggers:
Free Twitter link for posting a sign-up announcement.
Additional links for $5 (except Google+). Facebook links will be included in the Rafflecopter.
Co-host and page host spots available for $25 and $10 respectively.
Blogger Referral Incentive: Blogger with the most referrals gets a FREE Host Page!!
Giveaway Details:
Giveaway will run from April 15 to May 15, 2013
1 Prize worth $50 either PayPal or Amazon Gift Card. Additional similar prizes offered or increase in value of prizes depending on how sign ups go (will be confirmed by April 5).
The earlier you sign-up, the higher your links will be in the Rafflecopter. Blogger sign-up ends on April 3, 2013.
Important Links: